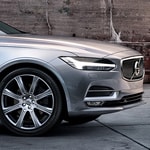 You are going to be at a loss to find a vehicle that has more or better safety features than the Volvo V90 when it comes to overall performance and so much more. This vehicle is a workhorse, and it shows. Volvo went above and beyond to prove to the world that they could offer something truly special to the community of people who rely on them.
Anti-whiplash mechanisms are another major selling point for the Volvo V90 as they help prevent dangerous whiplash that is so often a major part of what does the most damage to someone involved in a motor vehicle accident. They know what they are doing in terms of safety, and they are happy and proud to offer a vehicle that the consumer base trusts literally with their lives in many cases. It is the type of vehicle that safety advocates love and tell others about.
Explore the many safety features if the Volvo V90 and V90 Cross Country in Schererville, IN.