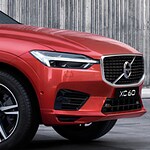 Some vehicles are popular because they carry the name of an automaker that's tried and true. Others are popular because of high performance. Both can be said of the Volvo XC60 R-Design. It's an SUV that's worthy of accolades.
Imagine being able to customize your drive settings based on how you feel. That's the exact purpose of the Drive-Mode Settings feature in the Volvo XC60 R-Design. If your goal is comfort, there's a mode for that. You can even establish presets.
The attractiveness of the XC60 R-Design is due to many small and large features that contribute to a dynamic appearance. The Matte Silver Mirror Caps are an example of how a minor feature makes this car look incredible.