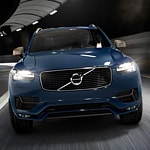 The Volvo XC90 SUV has excellent audio and tech features! Stop by Napleton Volvo Cars to make sure you get to experience all of these features in person.
The Volvo XC90 allows you to control your audio system from your steering wheel as well as a touch screen. You can also use voice control to access the audio system. The audio system has 220 watts and includes 10 speakers! You and your passengers will be surrounded by crisp and pure sound no matter how long your vacation.
The technology package for the Volvo XC90 includes Apple CarPlay, so you can easily sync your smartphone. Also, there is Bluetooth connection as well as the ability to wirelessly charge your smartphone. There is an app for your Volvo car that will allow you to check the status of your vehicle as well as see where it is. Also, you can pre-climatize your vehicle before you get in the XC90!